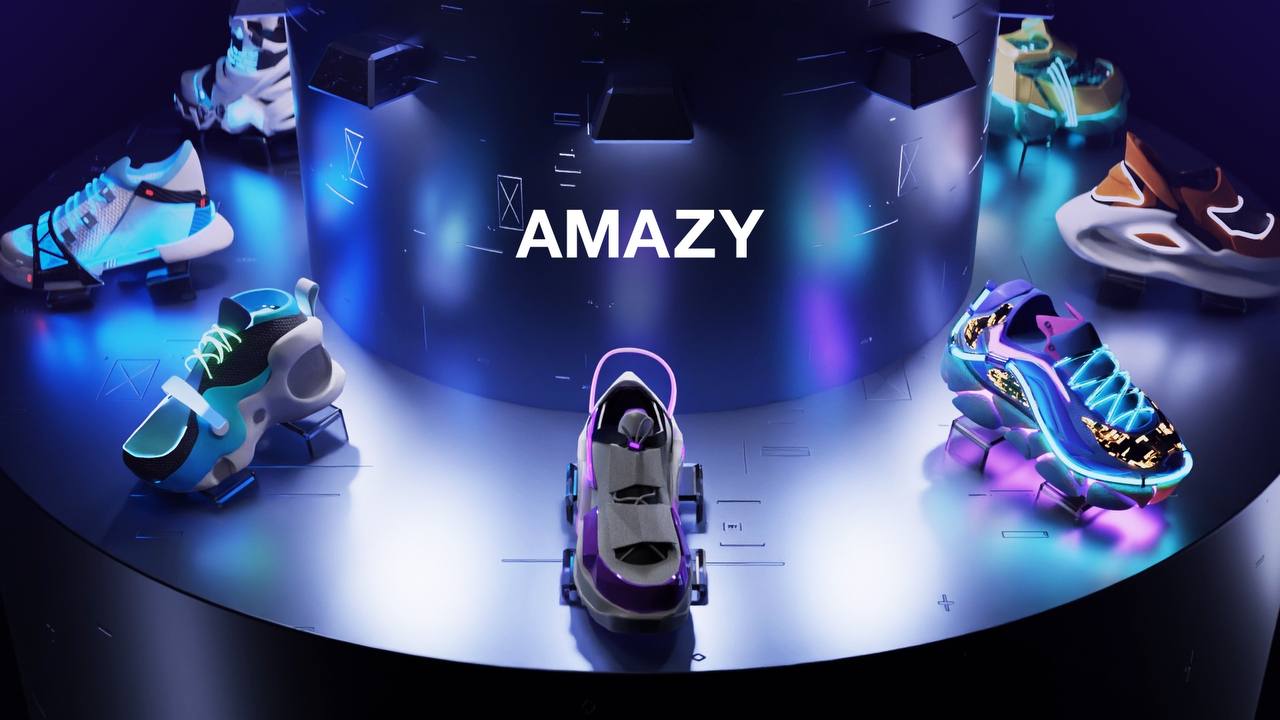 a new m2e competitor has entered the chat
a new m2e competitor has entered the chat
With the rise of the move-to-earn concept, we've seen some quality projects enter the market, as well as some not so great ones. Today, we'd like to talk about one that seems to falls into the first category.
Amazy is a project that aims to increase awareness around health and fitness, and give people the ability to earn tokens while they work on their health. Read all about Amazy in this edition of our 'Cryptomendo Deep Dive' series!
Amazy allows you to enjoy the fitness lifestyle with the help of the best NFT sneakers and fashion items. Brought to you through collaborations with your favourite brands and influencers. Not only does it allow you to earn AMY tokens while improving your health, it also serves as a social platform where you can share your progress, learn from others, and share your ideas about health & fitness.
The creators behind Amazy aim to promote healthier living and lifestyles through gamification and providing users a way to get rewarded for staying in shape. Amazy's mission is to challenge players to become fit by engaging them in fun activities in cool virtual sneakers as you take a stroll or go for a jog.
Are you a sprinter? Or perhaps you are more of a long distance hiker? There's a sneaker available for everyone that fits into your movement style! For instance, if you have sprinter shoes in Amazy, you only earn tokens when your speed is above a certain treshold.
This is quite an unique feature which add to the personal experience people have when using Amazy.
So, how does it work? And how do I start earning?
You can start earning tokens as soon as you have your Amazy virtual sneakers! There are different sneakers available. They vary in the style of movement that is associated with them, as well as the different rarities and designs that they have.
So by downloading the Amazy app and acquiring your sneaker, you are good to go! No complicated process involved.
Additionally, you can upgrade to even cooler sneakers every time you step up your skills. Remember to keep your GPS mode on as you move around to keep track of the distance you cover, jogging or walking!
The more sneakers you own, the better the energy ranking. You'll be able to grow from various sneaker types, from the ranger to hiker sneakers and coacher and sprinter models. These sneakers are graded according to performance, fortune, joy, and durability. You can earn from a Solo or Background Mode.
Exploring the dual token system and token utilities
Amazy is powered by a dual token economy. The two tokens go by the tickers $AMT and $AZY.
They have different token utilities and supplies. Take a look at the picture below for a breakdown.
Amazy is a huge project that doesn't have any VC backing (it's a good sign!). On the contrary, they have a huge reach through influencers and KOLs that they are partnered with.
Generally, Amazy's uniqueness lies in its technology-forward setup. It's available to anyone, whether you're still a rookie or a seasoned NFT and gamification expert. This makes it the future of fitness, engaging unimaginable features and mind-blowing innovativeness to get the world to move!
They have ensured that there is no entry barrier, so you can still join even if you are not familiar with crypto and NFTs.
Amazy's roadmap for the rest of 2022 is filled quite nicely.
The next upcoming event that a lot of people are looking forward to, it their TGE and token listing. It is already been announced tha Amazy will be listed on two exchanges right away. They will be having their IDO event with the Seedify launchpad, which is one of the leading launchpads.
I hope you enjoyed this article! As a blogger, I've been given the opportunity to invest in Amazy in their early round. Feel free to share this article using the buttons above.
Content that doesn't suck:
Subscribe To Our Weekly Newsletter
No spam, notifications only about new products, updates.
Nillion is a highly ambitious infrastructure project which, if it succeeds, can have a huge impact on web3, as well as outside of web3