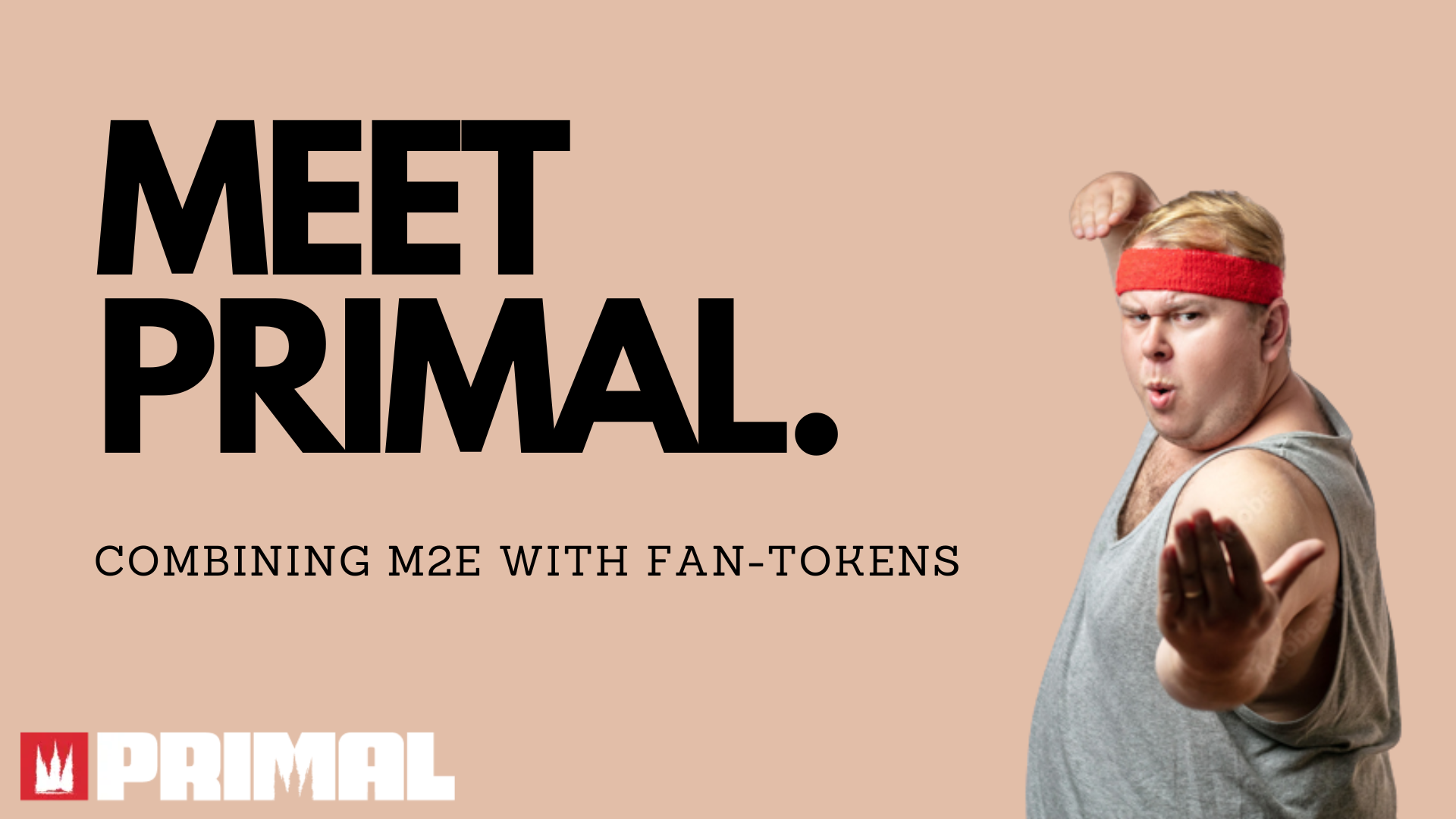 The First Move2Earn Project that Tokenizes Athlete & Fan Engagement
Meet PRIMAL: The First Move2Earn Project that Tokenizes Athlete & Fan Engagement
The past year, we've seen two concepts which became wildly successful; move-to-earn and fan tokens. Well, what do you get when you combine both concepts into a unique protocol? You get PRIMAL, which aims to garner mass-adoption by this unique combination. Let's dive a little deeper to uncover how they plan on doing that.
PRIMAL is an upcoming project which, as mentioned above, aims to combine move-to-earn with the tokenization of athlete-fan engagement. Sports is a 300B dollar industry, and PRIMAL aims to tokenize it by enabling the bond between fans and athletes.
What problem does PRIMAL solve?
The backbone of the 300B dollar sports industry is the bond between fans and athletes. However, this bond is not owned by any of these two parties. The bond is owned by large companies. PRIMAL aims to solve this problem through tokenization, thus recreating this bond and giving back the ownership to those who rightfully deserve it: the fans and the athletes.
Understanding the PRIMAL ecosystem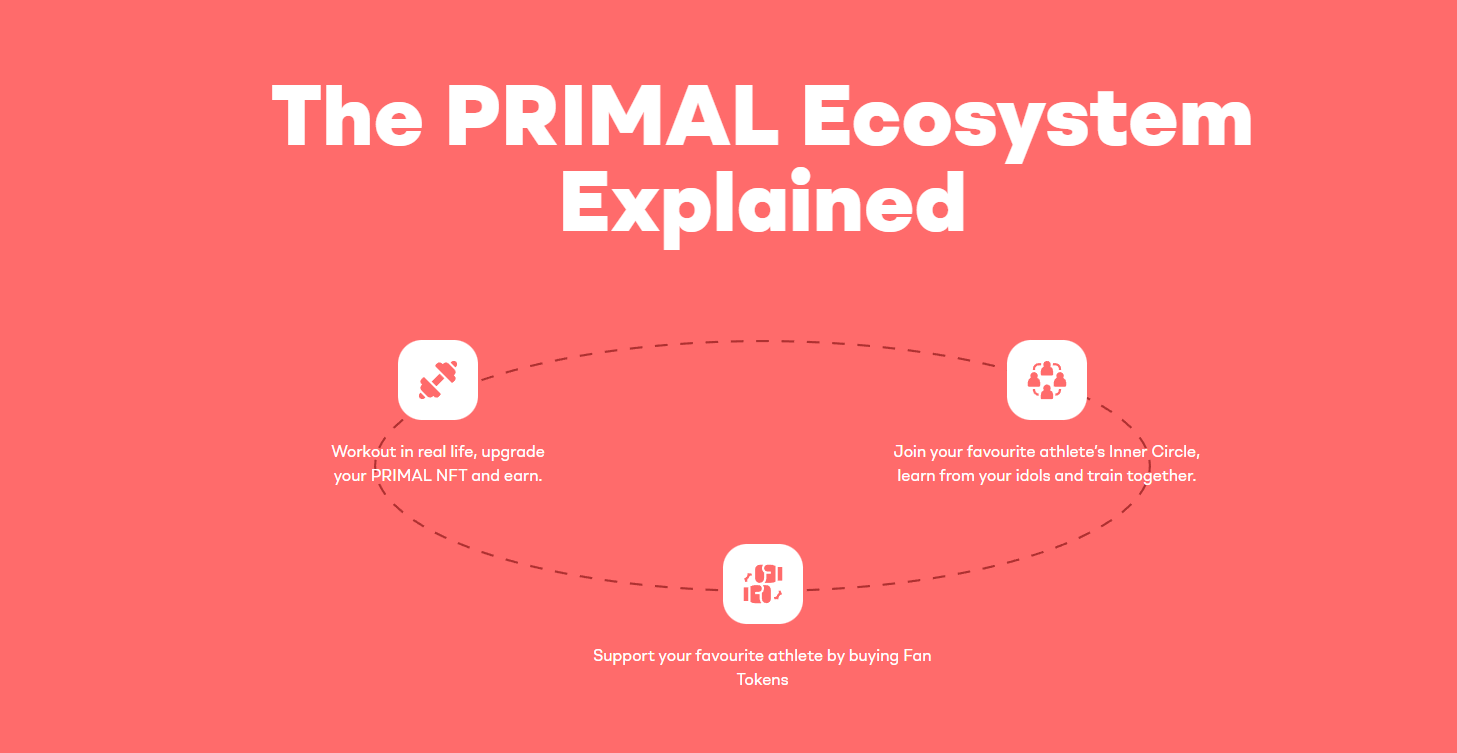 The Primal ecosystem consists of three main areas:
Real life workouts to earn (M2E) and upgrade your NFTs
Joining an athlete's 'Inner Circle'
Supporting your favorite athlete by buying Fan tokens
Let's dive a little deeper into each area.
Move-to-earn (real life workouts)
PRIMAL is, at its core, a fitness and metaverse app where users are rewarded for working out. So, in short, it's a gamified fitness experience. PRIMAL is compatible with a range of fitness trackers such as the fitbit and the Apple Watch.
The biometric data from your fitness tracker determines the rewards, helps your NFT character level up, and places you on the global scoreboard. There's also a social aspect to it, and you are able to track your friends' progress and connect with other fitness enthusiasts. Don't worry if you don't have any fitness tracking devices, an app on your smartphone will work just fine.
To stimulate and keep you motivated on your fitness journey, you can join an athlete's 'Inner Circle'.
Inner Circles are similar to a Patreon membership from your favorite content creator, or a private Discord community. Inner Circles allow Athletes to create their own ecosystem within PRIMAL. To join an Athlete's Inner Circle, users pay with $PRML tokens to unlock exclusive benefits.
This grants athletes the following benefits:
Additional revenue streams
Media support
Connecting with fans and creating a tight knit community
Athletes can offer various tiers in their circle, each giving access to different benefits.
Inner Circles come with ecommerce capabilities, allowing Athletes to sell merch, NFTs, and other products.
For the fans this is a chance to stay close to their favorite athlete, follow them along their journey, and help support them in their career.
Supporting through fan tokens
We've seen a large rise in the success of fan tokens, mainly through the project called Chilliz. PRIMAL tokenizes the athlete-fan engagement. Allowing fans to financially empower the athletes. The fan tokens offer fans exclusive benefits and perks.
Having a strong team is what secures a project's future. Check the picture below for information on the PRIMAL team:
PRIMAL has secured over 250 athletes for their ecosystem. Needless to say, that's a lot of athletes. Although they are not all announced yet at the time of writing this article. Want to see the list of the athletes? Visit this link.
I hope you enjoyed this article. Always remember that I'm not a financial advisor, I'm just a random pig on the internet and you should always do your own due diligence. I have a financial incentive for writing this article.
Let's connect on Twitter!
Content that doesn't suck:
Nillion is a highly ambitious infrastructure project which, if it succeeds, can have a huge impact on web3, as well as outside of web3