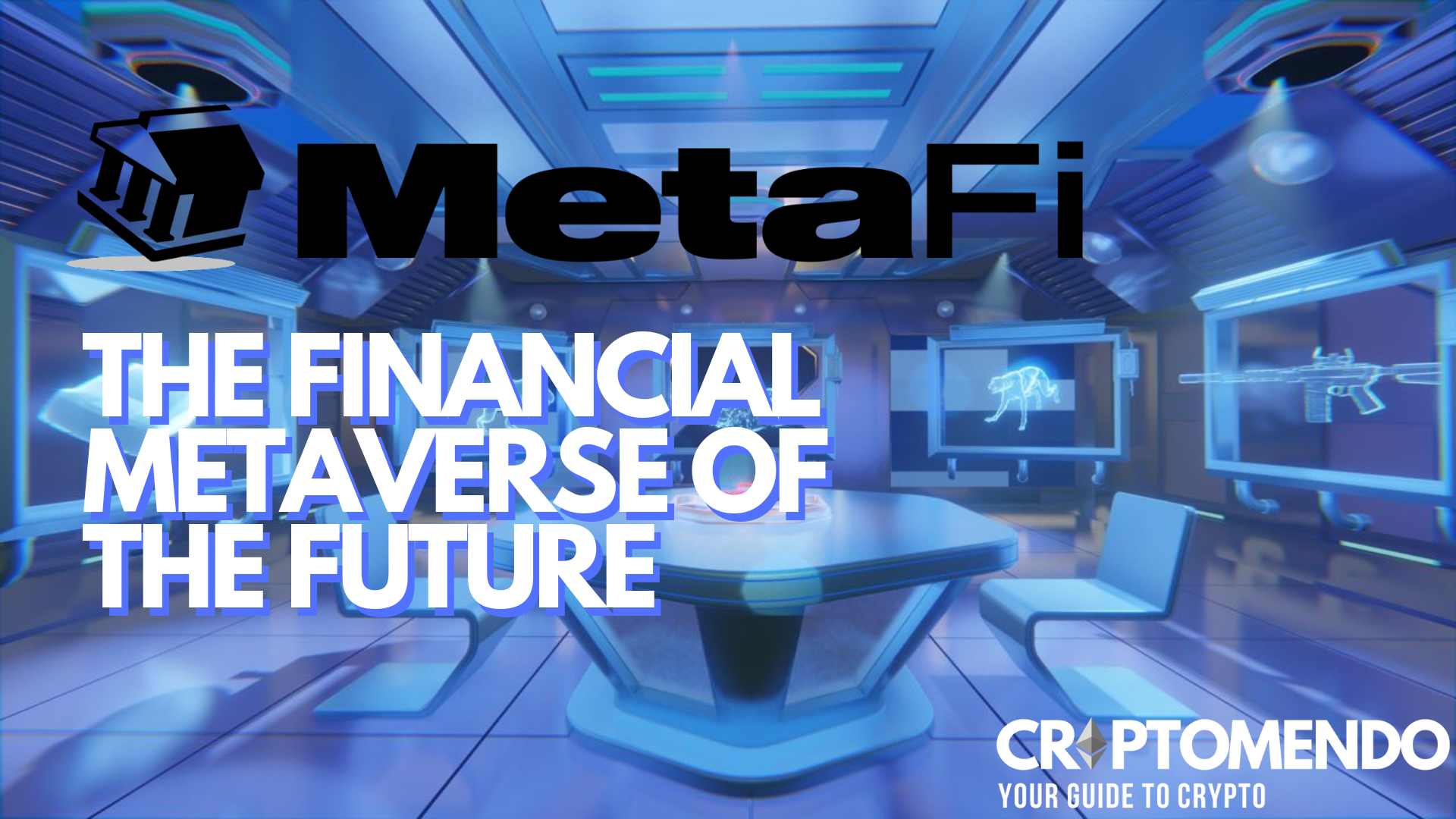 Metafi - the financial metaverse of the future
MetaFi is building a metaverse like you've never seen before, and aiming to change the current web 3 trading experience.
MetaFi - the financial metaverse of the future
As humans have progressed through time, the way we trade — as well as the things that we trade — has changed a lot. While your boomer parents stick to commodities and bonds, you invest your money into $GME, monkey pictures and magic internet coins. So far, web 3 assets haven't had a true web 3 experience for storing, trading, and investing into web 3 assets, until now..
MetaFi is building a financial metaverse like you've never seen before, and aiming to change the current web 3 trading experience. Let's explore the what, the why, and the how of Metafi👇
MetaFi is the financial metaverse of the future.
The MetaFi metaverse is an advanced and futuristic version of the world. This digital version of planet Earth is divided into a select number of zones, where each zone represents a specific asset class. Each zone allows users to trade, display NFTs, and communicate with others using text, images, or voice chats.
It's a true social experience, where the user is represented by his/her digital avatar; the MetaFi Citizen (linked to the user's wallet). This virtual experience (powered by VR) makes trading more fun, and more social. Trade crypto in a virtual environment, trade knowledge with other MetaFi citizens, share ideas, and show trades in real time.
The following zones can be found in the Metafi metaverse:
MetaFi's ultimate goal is to be the true one-stop shop for trading:
Trade any coin like you do on DEXes and CEXes
Place offers for NFTs on leading NFT marketplaces
Socially engage with your friends and other traders
Access social platforms like Twitter, Discord, and Telegram directly from the metaverse
MetaFi is a world without limitations when it comes to trading, storing, and showcasing your digital assets, as well as growing your social status as a trader/investor.
In this digital, futuristics metaverse version of earth, the highlight of every city will be the metaverse bank. It's a building owned by the MetaFi citizens where they can check and manage their portfolio in the vault room. Here is a sneak peek:
The metaverse bank is your home base, where you can do all sorts of things. MetaFi has metaverse banking partnerships lined up, and have announced a few of them already. For example, Mintable; a leading NFT marketplace. Having them as a partner allows for instant NFT liquidity, allowing MetaFi citizens to delegate their NFT to guilds to earn passive income, and enables NFT renting on demand.
Like Mintable, Metafi has more partners lined up to create the greatest financial metaverse in the market.
MetaFi initial metaverse offerings
One of MetaFi's products is their launchpad where users can participate in 'initial metaverse offerings'. These are IGO's and IDO's hosted in the MetaFi metaverse. This is another strong utility which will incentivize holders to stake their tokens in order to participate in these launches.
MetaFi token utility and tokenomics
Let's start with tokenomics. The supply split looks like this:
25% ecosystem incentives 

10% private sale
4% partners and advisors
4% public sale
24% liquidity, marketing
18% Team
15% development
One of the strong points is that there isn't a disproportionately huge percentage of the supply allocated towards early investors.
Now, on to the MetaFi token utility:
The $METAFI token is the governance and utility token of the MetaFi metaverse, and has all sorts of use cases.
First off, the $METAFI token can be staked. Staking your tokens allows you to create a referral link, which can be used to generate more income based on your number of referrals. Stakers earn up to 50% of the protocol fees, and they are incentivized to stake for longer periods as that increases the amount of rewards.
To incentivize users to stake their tokens, the team has come up with even more staking rewards; 
30% of the stakers (randomly selected) gets cashback on their trading fees
Stakers earn XP which allows them to participate in public sales (initial metaverse offerings) on the MetaFi launchpad
Stakers get access to NFT lotteries
Other token use cases include the following:
Access to premium features depending in token balance (early access to new releases, new trading zones, and NFT drop collaborations)
Purchases can be made with the Metafi tokens. E.g. skills (upgrade characters), customization (skins, items and maps), and feature subscriptions (some MetaFi institutional partners will have exclusive features in the MetaFi metaverse which can be purchased using MetaFi tokens)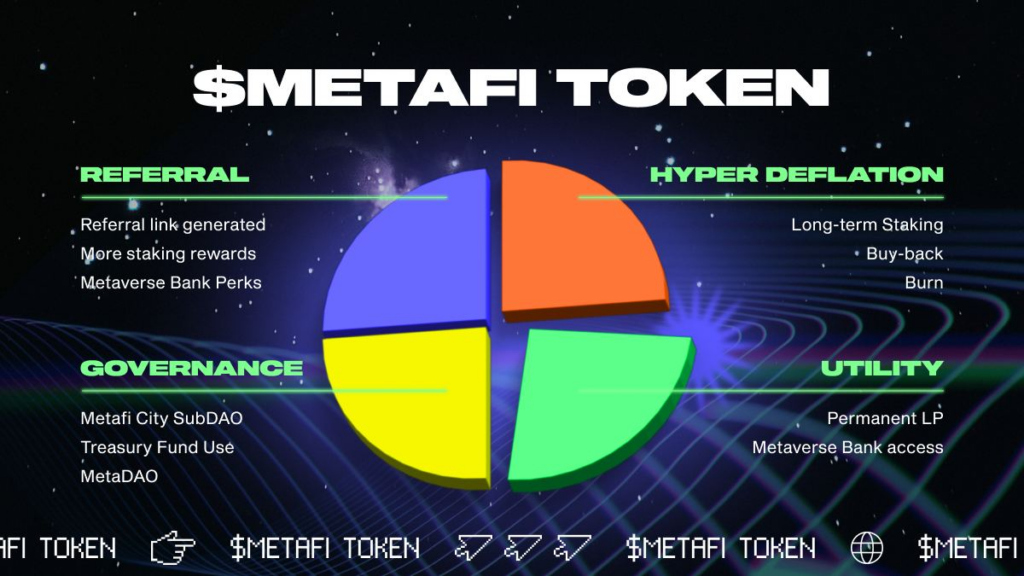 MetaFi is designed to be deflationary
MetaFi has designed the tokenomics and token economy in a way that it becomes deflationary. But, there's a catch; this is solely based on the user acquisition and user retention of the MetaFi metaverse. 
$METAFI token has been strongly integrated within it, so that more users over time will lead to decreased supply. To name one example of how this is achieved; the generated fees are used to buy back $METAFI from the open market and subsequently burned.
I hope you enjoyed this article. I'm a private sale investor in MateFi so naturally I'm excited about what they're building and curious what the finished metaverse will look like. Remember that I'm just a random pig on the internet and you should always do your own due diligence. I'm not a financial advisor.
Let's connect on Twitter!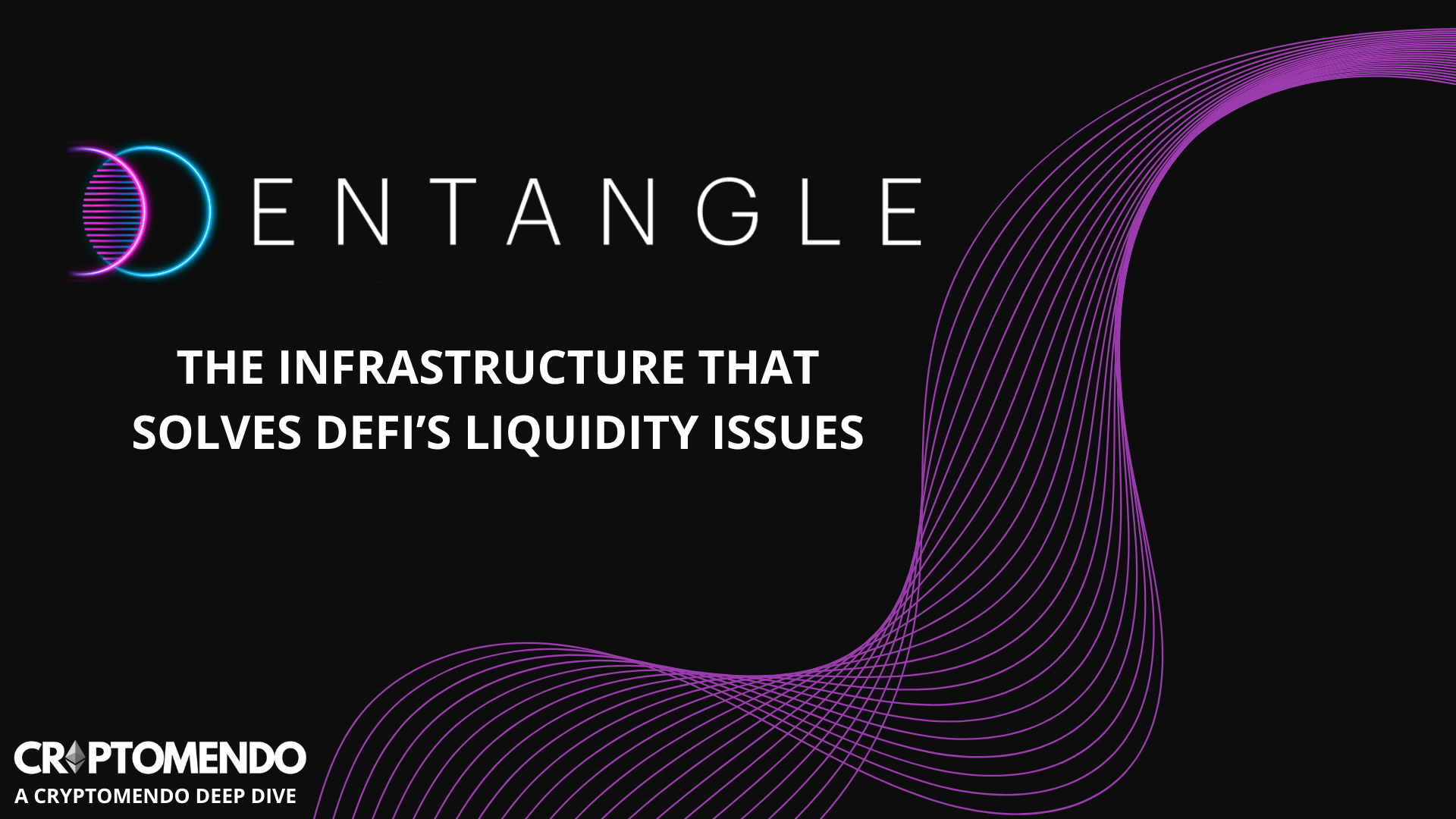 Entangle solves the DeFi liquidity issues by increasing capital efficiency, liquidity retention, and free movement of said liquidity. Unlocking layers of utility. for your liquidity and yield bearing assets.