A deep dive into Orion protocol
shaping the future of trading
A deep dive into Orion Protocol
Orion Protocol is often described as the "future of trading". If you've been in crypto for some time, then you know the struggles of switching between different exchanges, DEX'es, depositing/withdrawing to and off wallet, bridging between chains to access certain coins. The whole charade. With the orion terminal, those days are over.
Orion protocol is a liquidity aggregator whose main product is the Orion terminal. Orion Terminal aggregates liquidity from both CEX'es and DEX'es into one terminal. In short, that creates endless liquidity through one single interface.That means:
No more exchange hopping
No KYC required
Not having to use bridges that are very vulnerable to hacks
Cross-chain trading
Endless liquidity
Access to different liquidity sources, thus always providing you with the best prices for your trades
Arbitrage between  liquidity sources from one UI
Non-custodial trading
How does Orion Protocol's liquidity aggregation work?
Orion integrates both CEX'es as well as DEX'es into the terminal. To integrate DEx'es, the underlying chains are integrated. Currently, only ethereum and binance smart chain are available for trading. Fantom is the next chain that the team is working on. EVM-compatibale chains are easiest to integrate as they are compatible with the terminal's smart contracts.
To tap into CEX liquidity, Orion works with a network of brokers running Orion Broker Software on their exchange accounts. With the software, when someone makes a trade through the Orion terminal, it gets routed through the exchange that offers the best rate and through a specific broker's account. The software is able to use the computers of brokers to automatically execute trades.
The picture below shows how the broker system works, or you can check out this article from Orion themselves.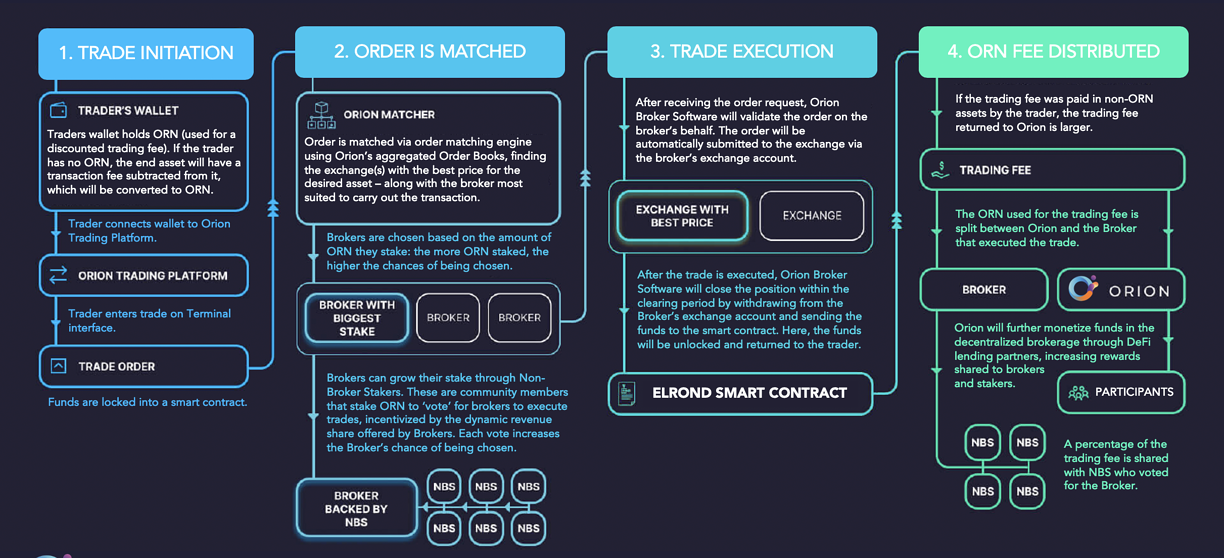 Orion Protocol has done some wonderful things so far.
The ORN token has been listed on many reputable CEXes, which provides easy access to the token for many people, The Orion terminal has been live for quite a while and works very well. 
Integrated chains:
Fantom
Ethereum
Polygon
Binance Smart Chain
Onboarded exchanges:
Binance
AscendEx
KuCoin
Crypto.com
MXC
And more
about the orion protocol token: $ORN
$ORN is Orion Protocol's token and is closely tied to the terminal. Logically, it will be integrated into all main transactions on the platform. But, as you'll find out later, Orion has a wide range of other products and services where value will be funneled back to the token holders. Here's a list of some of the ORN token's functions:
Discount on trading fees; save up to 20% on fees by paying in ORN
Stake for the brokerage system; to be a broker you need to stake a certain amount of ORN. Brokers stake their own ORN to be chosen for orders to get routed through them, non-brokers vote for certain brokers and get a share of the revenue.
Hold ORN to unlock additional platform features
ORN will be the main payment curreny for all services and dApps. Hint: there's many!
But, the main utility behind holding the ORN is to stake it and receive a share of Orion's 18 revenue streams. Once in full form, the ORN token could quite possibly be the greatest passive income in crypto, read on..
Try the Orion Swap widget below! All trades are routed through the Orion Protocol terminal.
$ORN utility: the greatest passive income in crypto
The Orion team is working on a wide range of products and services. Each of them generates revenue for the protocol. That is where the strong token utility of the $ORN token comes in. A portion of all generated revenue is collected and distributed to those who stake their ORN tokens on the terminal.
Before you get too excited, this form of staking is not live yet at this moment. They are focussing on building out the product first. But, once it's all in full form, ORN token holders will be earning very generous amounts of passive income. So much so that ORN could be called "the greatest passive income in crypto". 
Don't take my word for it though, my friend Blaze wrote an entire article on why this is the case, and backs it up with calculations. I highly recommend you read it: blazingburgundy.medium.com 
You can also play around with the Orion Protocol staking calculator yourself.
A closer look at the 18 revenue streams
Honestly, I could probably write another full article on this part alone. It's quite ambitious what the team is trying to build and even more impressive if they manage to pull it off. I'll let the infographic below speak for itself. Remember: the ORN token entitles you to a share of the revenue generated by each product, service or feature.
what's next for orion protocol?
2022 will be a big year for Orion protocol. They shared countless products and features that were planned for the future. Now, it's time to develop and deliver. Fair side note, at time of writing (feb 2022), they've been making good progress already. What are some things to look out for?
Right now, they seem to be focused on three main areas:
Increasing volume
Improving infrastructure
Industry-first features
Here are some things to watch out for in the shorter term:
Uniswap and Pancakeswap integration

Wallet swap SDK

Whitelabel DEX
Mobile app
Orion widget
New chain integrations
Onboarding more CEXes as power exchanges
Increasing pairs on the terminal
New IDO's for Orion Solarflare
orion protocol price target
At time of writing the $ORN price is down a lot from its ATH of $29. They took quite the tumble now that the market is down, but there was also some dissatisfaction from the community. Recently, they have been working on increasing transparency and communication regarding updates. They have implemented a weekly Dev update which is always very cool to read.
In my opinion as a degenerate (NFA ;)), ORN is a very solid project and I'm personally dollar coast averaging into this. It's a pretty good opportunity, especially if you consider their ATH was close to 30$ and the fact that around 40% of the supply is staked. 
Here is a thought experience that's fun to think about (who knows if it plays out):
ORN could reach the same market cap as well-known DEXes. At the market cap of Uniswap, one $ORN would be worth around $119. 
Content that doesn't suck:
New to crypto? Check out the cryptomendo beginners guide to crypto [2022]

I truly believe Blockchain will have a tremendous impact on various industries like finance, logistics, intellectual property, licensing and many others. At some point, Blockhain and crypto as a whole will come to a point of mass adoption. And thus, while this space is still in its infancy, it provides an amazing opportunity to get in before the masses catch on.
In this short beginner's guide to crypto, I'll provide you with a brief overview on the different step to get started on your crypto journey.
Subscribe To Our Weekly Newsletter
No spam, notifications only about new products, updates.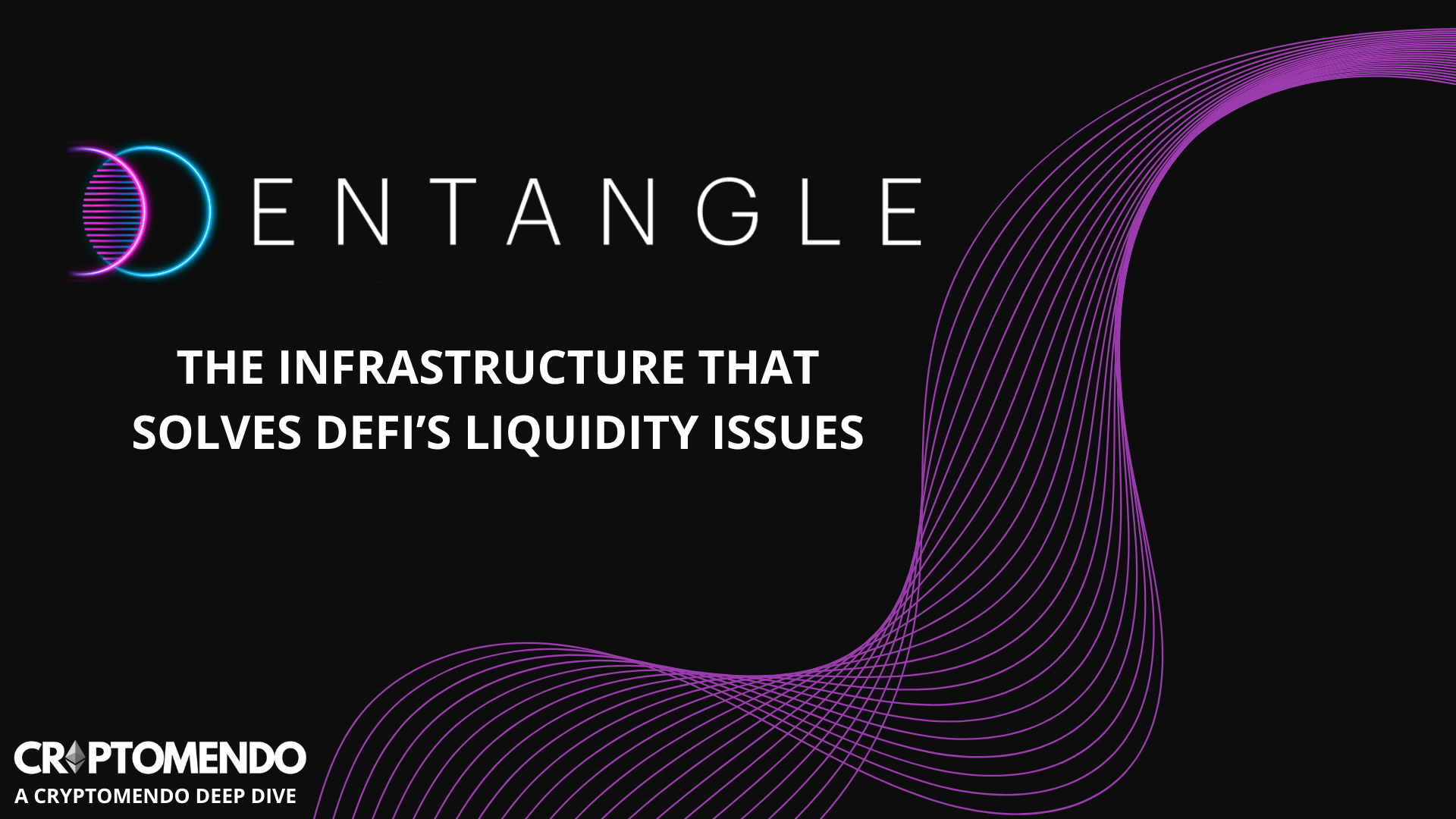 A deep dive into Entangle the defi sub-layer for cross-chain liquidity a deep dive into entangle I believe Entangle can solve the DeFi liquidity issues