A deep dive into GAMESTAR+
REVOLUTIONIZING THE TRADITIONAL GAME NIGHT
A deep dive into GAMESTAR+ | Revolutionizing the traditional game night
Board games can be found in almost every household, but the format hasn't changed in decades. Gamestar+ aims to transform this industry with the power of web 3 and blockchain technology. How will they do it? Let's find out..
A TLDR for the short attention span TikTok users among us:
Gamestar+ delivers a fresh social gaming experience through its streaming app. The app combines globally recognized brands such as Family Feud with play-to-earn (P2E) blockchain technology. Powered by the $GSTAR token.


At time of writing Gamestar has acquired over 30K monthly active users (MAUs) and over 400K downloads of the Gamestar app. That's very impressive considering they're technically still in the 'pre-launch' phase.


There will be a dual token economy: $GSTAR will serve as the governance token and $GBUCKS will serve as the in-game currency which can be used for various purposes.


Gamestar+ has a huge portfolio of globally recognized IP brands such as Jeopardy and titles from Marvel, Disney, PIXAR, and many more.


Gamestar+ is co-founded by family feud icon Steve Harvey. Daymond John, known from his clothing brand FUBU and his spot on Shark Tank, is onboarded as an advisor.


The Gamestar+ team consists of industry veterans (Ex Sony, Disney, Dolby, HBO, Warner Bros, 20th Century Fox, and many other top companies in the entertainment industry).


Gamestar+ is incubated by Faculty group, who has worked with many successful web3 gamechangers (wink wink).
Alright, now that everyone under the age of 20 has finished reading, we can dive a little deeper.
Gamestar+ is the self-proclaimed "Netflix of Game night". It's a "next-generation streaming app that combines classic game play patterns with an innovative 'play to earn' blockchain architecture and globally recognized brands to deliver unique social gaming content through TV, mobile, and connected devices."
Okay, I know what you're thinking..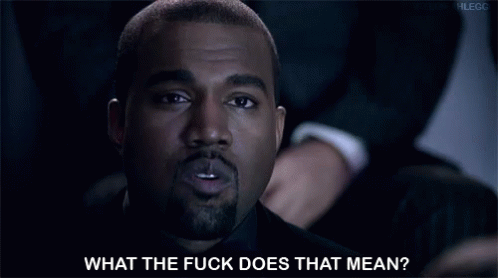 Welp, let's simplify it a bit. So, Gamestar is a streaming app. Not the kind where you watch videos of a blonde lady who gets a visit from a bald astronaut, doctor or realtor, but one where you can stream games! 
With Gamestar, you can bring the traditional game night to every TV, phone, Ipad or other connected devices. Allowing you to play those (board) games that we all know and love.
What games can you play with Gamestar?
The most interesting thing about Gamestar, is that they have a huge portfolio of world renowned IP brands. Gamestar has onboarded:
Some of the the highest rating TV game shows in the world such as; Family Feud, Jeopardy, Wheel of Fortune, Price is Right, and Deal or No Deal
And titles from Marvel, Disney, Lucasfilm, Universal Studios, Sony Pictures and more. 
They are not sopping there however. According to their whitepaper, current negotiations include a significant list of titles spanning all areas of entertainment. So, there's even more to come.
To answer your question: currently "
Family Feud
" and "Scene It?" are integrated. Jeopardy and Wheel of Fortune are next in line. But as mentioned before, there is a long list of titles yet to be announced. Starting to realize why I'm so excited about Gamestar yet, Anon?
Wen token? What can I do with the token? Why two tokens? Why Blockchain? Wen NFTs?
I hear you fellow degen, good questions. Let's start with the first question.
Wen token?
At time of writing, the launch date for the $GSTAR token is unknown. It will be announced soon!
Token utility
Acquire tokens through competition wins, direct purchase, being gifted or transferred to you, or NFT sales.
Spend tokens on subscriptions for premium services, or spend them in the marketplace on in-game packs, new games, NFT purchases and premium services.
Hold for play-to-earn, premium content and access to the Gamestar metaverse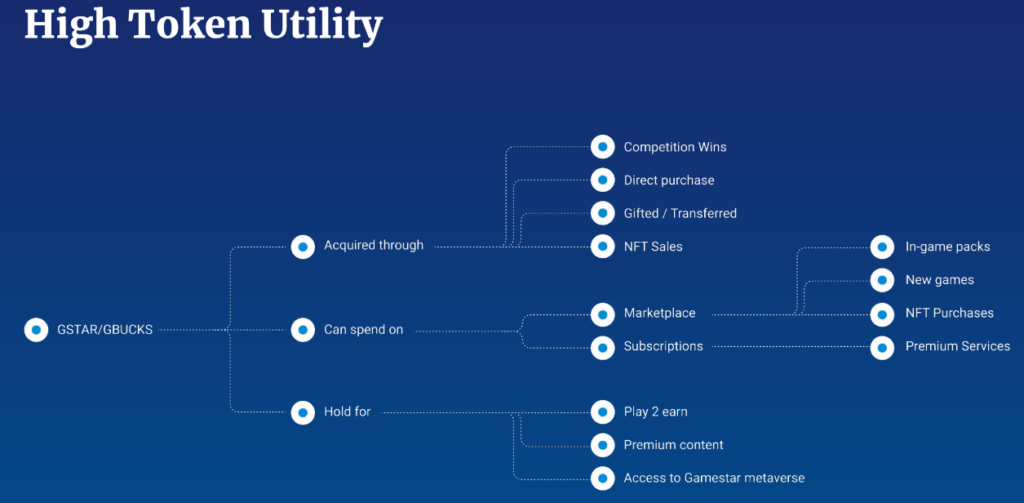 Why two tokens?

There will be two tokens -> $GSTAR and $GBUCKS. Let's look at the differences between them;
GSTAR is the governance token – which is designed to be deflationary and should grow alongside the user base of the platform.
GBUCKS is the in-game currency which can be used for various purposes like in-app purchases, premium content, and much more.
Why blockchain?
The token powers the Gamestar ecosystem, but it also provides benefits to its various participants. For example, token holders are able to participate in the governance of the platform. 
A token also enables the Gamestar team to have users vote based on their platform usages. Veteran users may hold greater voting powers, or can vote on things not accessible to every holder. 
The Blockchain tech also allows Gamestar to tokenize in-game assets in the form of NFTs. E.g. skins, avatars, participation rights in exclusive events and many other things.
Wen NFTs?
There will be two types of NFTs in the Gamestar ecosystem. The platform NFTs, as shown in the image below, can be earned through the play-to-earn mechanics of Gamestar. The Core NFTs are also quite interesting, though not much is known about them yet.
As previously mentioned, the people behind Gamestar+ are industry veterans.
Let's start with the fact that Steve Harvey, Family Feud icon, is one of the co-founders. The leadership team consists of people with extensive experience in the entertainment industry (Ex Sony, Disney, Dolby, HBO, Warner Bros, 20th Century Fox, and many other top companies).
Gamestar is also being incubated by Faculty group, who have a very strong track record in terms of the projects they have previously incubated, helped with marketing, or invested in.
Gamestar+ is well positioned to become the "Netflix of Game Night". The combination of a strong leadership team, well thought-out token economy, strong backing, as well as the celebrity talent onboarded, makes Gamestar a project that should be on everyone's radar. That is the reason why I'm is proud to be an early investor into Gamestar!
I hope you enjoyed this article. Always remember that I'm just a random pig on the internet and you should always do your own due diligence. 
I am not a financial advisor, I am just your friendly neighborhood pig. Let's connect on Twitter!
Content that doesn't suck: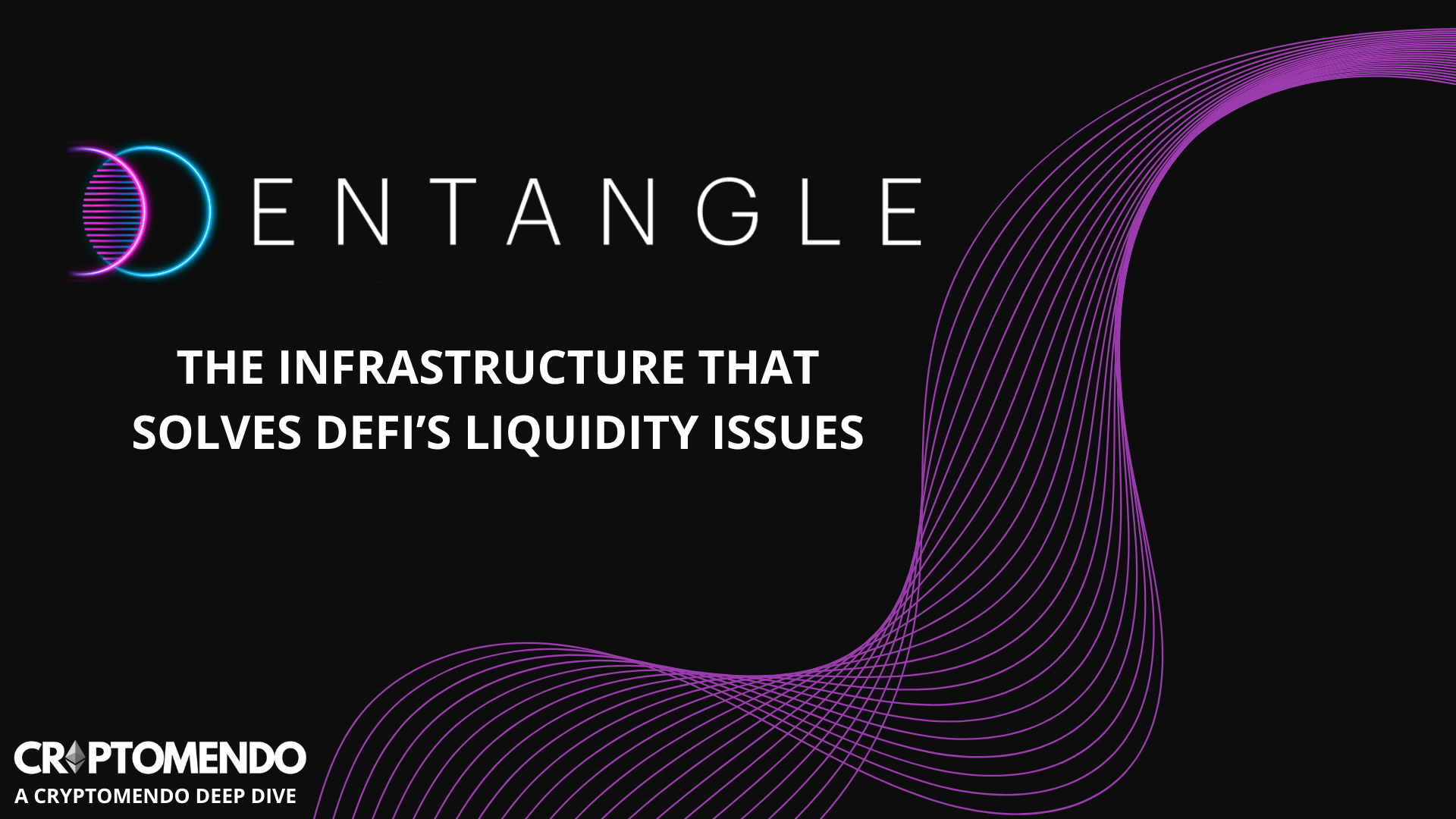 Entangle solves the DeFi liquidity issues by increasing capital efficiency, liquidity retention, and free movement of said liquidity. Unlocking layers of utility. for your liquidity and yield bearing assets.